Payday Advance Banners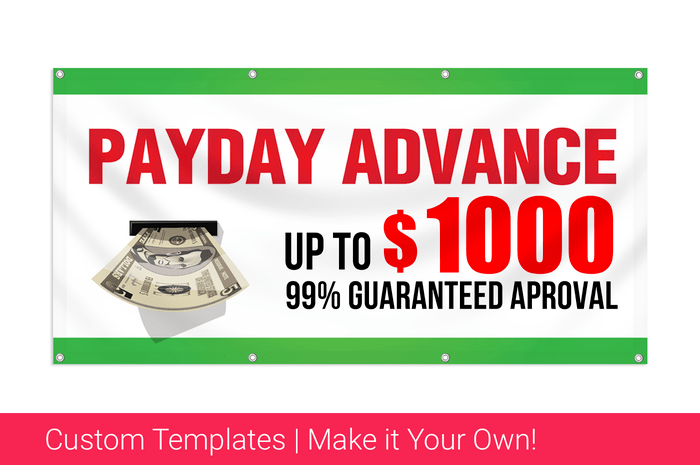 Payday Loan Banners
When you need to educate customers of excellent interest rates or fees for the pay day cash advances you provide, banner advertising exposed to passing traffic in front of your cash advance business is one of the most affordable and effective ways to promote your cash advance services.
Cash advance offers and pay day advance services were formed to profit from helping people needing immediate cash in the short term to fulfill their specific cash flow needs until they can pay back their dept when payday comes. These payday loans or money advances are a crucial part of enabling a consumer to be able to acquire quick cash in case expenses come up that are a surprise. Possibly you have a medical emergency that requires the spending of cash that is over and above what is currently budgeted for the month, or you have an accident that requires the immediate purchase of a new car so transportation can be provided until your settlement comes in. Regardless of the emergency, payday advances and temporary cash loans can be a life saver to help ends meet in times of unexpected occurrences.
Payday Advance Loans Promote your payday loans and cash advance offers to consumers needing quick cash prior to their next pay check using effective banners to advertise your services.
For sizing banners, visual perception and being able to easily read your message is the key to a successful cash advance promotion. Informing customers of the fees you charge and offering competitive rates for loaning money in the form of pay day loans is going to be the determining factor for acquiring new business. With all banner ads, exposing your message to passing traffic legibly is important. If your banners are too small they wont be able to read the message and your ads will not convert traffic into customers. However if your ads are clearly legible and large enough to be easily read. these ads promoting your payday services can have a huge impact on the turnout of new customers you can acquire. For legibility, we suggest using 3x8 foot banners, or even our 4x10 banners depending on how much space you have to work with.
We realize that most of you will already have print ready files for your cash advance loans ready to promote the rates you charge for these payday services. If this is the case you can easily upload your graphic file at the time you order, and we will review your file to ensure your banner message is printed to your expectations. However, for those of you that do not have a print ready file ready for displaying your paycheck advance offers, we have created some custom sign templates you can modify to suit your temporary loan advertising needs. Simply find the loan offer you like best from the payday advance signs we have created and use our easy to use online banner design tools to customize your banners. Our online designer will make it easy for you to modify any template so that your banner contains the unique color schemes, desired fonts and type styles for your banner ads. We also allow you to upload your own graphics and logos onto these sign templates, so even if you have a graphical logo you want to use within your loan banners, you can easily add your logo and any other graphics you want for personalizing your message.
Be rest assured, when you buy any of our banners, high resolution printing is what you can expect from the banners you will receive from Printastic.