Home

\

Take Out Banner Signs
Take Out Banners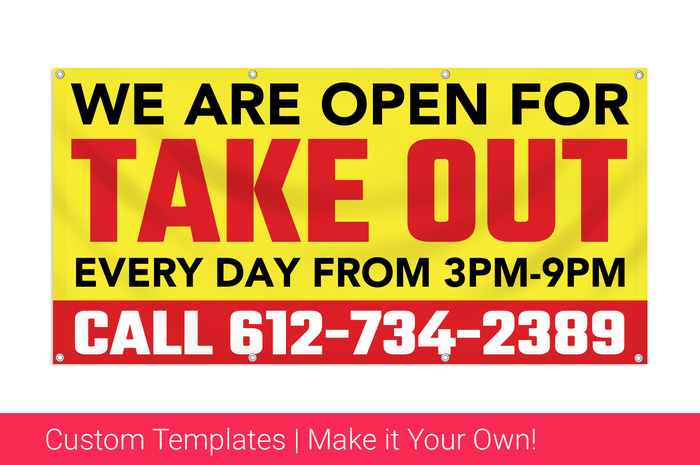 Print Take Out Banners to Promote A Restaurant
Advertising take-out food outside your restaurant using custom banners to attract motorists driving past your establishment is an incredible way to increase revenue. Not only does it provide your customers with the convenience of eating at home, but it saves your restaurant space so that you have more tables available for inside dining. This allows you to sell your food to more customers without using up space.
Whether or not your business has always offered take-out dining or you're introducing this as a new service, the appeal of adding meals to go is more popular now due to the pandemic we just experienced than ever before.
Customers crave convenience almost as much as they crave delicious food. They often find it quicker to pick up their dinner and take it home than dine at a restaurant.
Using banners to promote curbside pick-up as a take-out option is increasing in popularity and even offers more convenience to patrons, since they don't even have to get out of their vehicle.
Ordering Your Banners From Printastic
Simply upload the artwork you wish us to print on your banner(s), choose from our designs that can be customized online or design your own take-out themed banner from scratch using our easy online design tools.