Home

\

Urgent Care Banners
Urgent Care Banners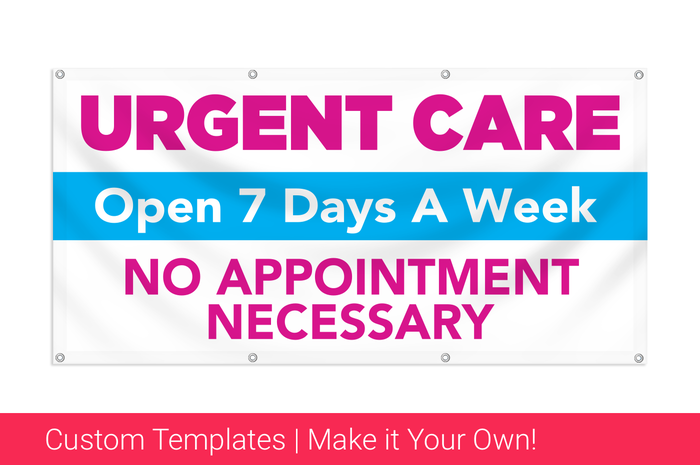 Urgent Care Banners
Urgent care centers use quality printed custom banners from Printastic to advertise its urgent care medical services and to announce the accepting of new patients to increase the number of visits.
Banner advertising is an effective and affordable medium for clinics trying tio find new patients. Banners help to bring in patients from people passing by your clinic, and support other advertising mediums as well. As an example, a patient may see an ad in their local newspaper and immediately remember seeing your banner, which means that the next time they need to visit an urgent care facility, they'll likely choose yours.
Many people assume you need to be an official patient to visit a clinic, so your urgent care banner should be designed in an inviting manner and inform people passing by your clinic that people can freely come in by using terms like, "Walk Ins Welcome", or ,"No Appointment Necessary". This type of inviting message lets people know they are welcome for any reason without prior notice.
Banners can be used to help educate patients to learn what type of medical procedures your clinic offers. If you offer flu shots or vaccinations, or if you provide any radiology services, adding banners that incorporate any specialty services is effective in attracting patients looking for the specialties you offer.
Ordering Banners for your Urgent Care Clinic is easy. If you have your design ready, you can upload the artwork you wish us to print on your banner. However, if you need a new design, you may customize one of our urgent care banner templates using our online design tools.