Home

\

Used Car Dealership
Used Car Dealership Banners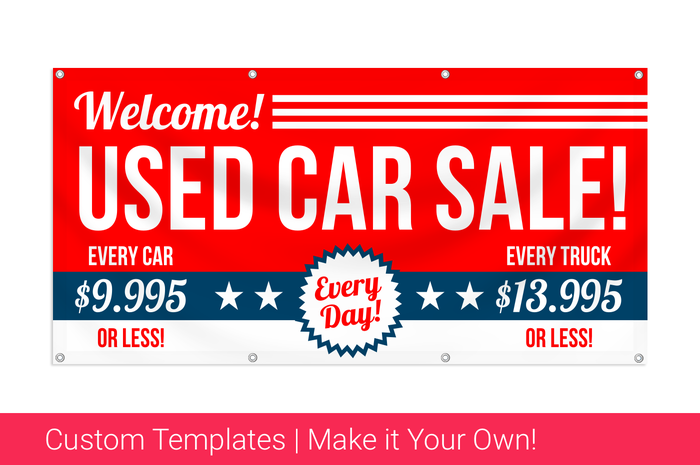 Used Car Sale Banners
Hang Outdoor Vinyl Banners In and Around Your Used Car Lot To Help Sell Your Inventory of Pre-Owned Automobiles!
Outdoor vinyl banners are one of the more affordable outdoor sign advertising strategies any used car dealer can utilize to effectively promote the sale of pre-owned automobiles to prospective car buyers that pass by your lot every day. Sized up to 4 foot by 12 foot in width, these banners can span several cars offering huge price reductions, buy here pay here advertising, or even to announce special financing options your used dealership may be able to offer.
With a variety of pre-designed signs that any dealership owner can easily customize using our online sign design tools, finding the appropriate used car signs you need and modifying these signs with your own brand and logo then applying your ad to any of the vinyl banners we sell provides for one of the more effective direct response ads a used car dealer can use to facilitate new car sales. Our collection of pre-owned vehicle sign templates are created based on a history of used car dealership advertising we have seen applied to banners throughout the years. These car sale banners are proven to be effective in attracting the attention to your dealership you are looking for, and with our customization tools ready to assist in the branding and personalization any dealership would want, literally any used dealer owner can create awesome signs that at one time would require a graphic sign expert.