Valet Parking Banners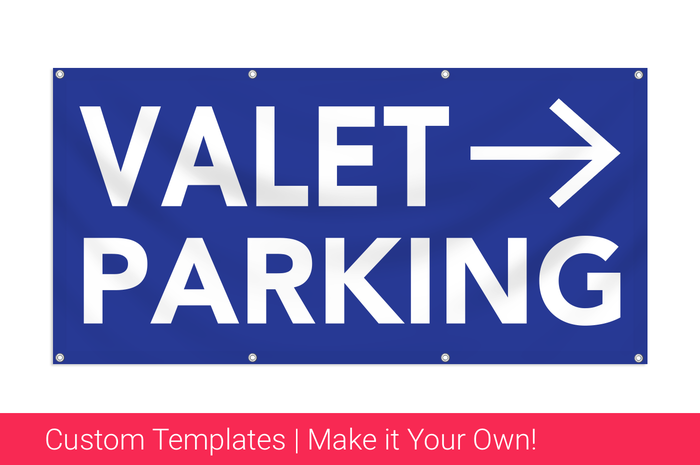 Custom Valet Parking Banners
Business owners who offer valet parking rely on affordable vinyl banners to direct drivers to the valet drop off point and to notify patrons who want to use valet parking of rules and daily fees.
Whether your valet parking is free or you charge a fee, you will need to inform customers of costs and rules associated to your valet services. Even if you offer free valet to help better manage parking at an event or while dining out, printing custom banners to disclaim that your valet service is not responsible for theft or damage resulting from attendants parking the vehicle is important. Also don't forget about informing visitors receiving free valet services should still provide a gratuity to the parking attendant.
Directing Valet Customers
If your valet parking operates in a different section from the rest of the parking lot, you can use our vinyl signs to direct your customers to the right area to have their car parked.
Restaurant Valet Services
Most valet parking offered by restaurants is free to customers that choose to dine at the area. In this case, custom banners to notify that your valet services are for restaurant patrons only should be considered.
Malls and Shopping Center Valets
If your retail location offers a valet service to help people park their cars while shopping, you can benefit from banners that notify shoppers of parking fees and disclaimers.
Event Valet Services
Major events that have large numbers of attendees often offer valet services to priority guests in order to provide VIPs with the convenience and peace of mind knowing their vehicles are safe and well protected. Printing directional valet service banners to separate VIPs in their vehicles from the rest of the guests entering your event will ensure your event parking runs smoothly and without hassle.
Ordering Custom Valet Parking Banners
Ordering custom banners for your valet operation is easy with Printastic. Upload your artwork, or start by customizing one of our valet design templates, or create your custom banner from scratch using our online banner design tools.