We Buy Gold Banners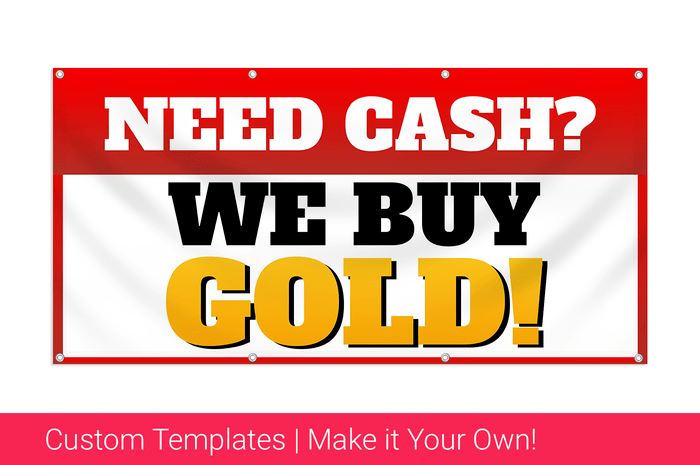 We buy Gold Banners
We Buy Gold Signs are popular among pawn shops and other Gold specialists who advertise the fact that they buy Gold in any form. From jewelry to scrap Gold, to even the occasional Gold tooth, as long as the weight of Gold is solid 10k, 14k or higher, buyers of this precious metal are eager to buy as much Gold as possible and quite often use banners and signs to convey the kind of money they are willing to pay.
Many of the Gold Buying Signs we see our customer print include simple but effective slogans that convey they pay top dollar for any kind of Gold no matter the circumstance. We have seen Cash for Gold Messaged Banners, We Buy Gold Signage, Sell your Gold While Its High signs and many more inventive textual messages. Because of the many Buy Gold Slogans we have seen, we wanted to help our Gold buying customers by included our list of fully customizable Gold Buying Sign Templates that can be easily modified using our design tools. Even if you want to create your own unique Gold Purchasing slogan, our online tools will allow you t enter any unique message about acquiring Gold for Cash you want to convey. Using our online sign designer, you can also apply new font styles and sizes, and even upload custom graphics for any of the cash for gold signs you want to create. After completing your design, you will be able to choose any of the banner or sign products we offer prior to checking out with your order.
We realize that most of you will already have print ready files for your Gold buying banner promotions ready to promote the price you are willing to pay for the Gold submitted to you. If this is the case you can easily upload your graphic file at the time you order, and we will review your file to ensure your banner message is printed to your expectations. However, for those of you that do not have a print ready file ready, we have created some custom Gold purchasing sign templates you can easily modify to suit many of the Gold buying services you may be offering. Simply find the promotion you like best from our pre-created We Buy Gold Signs category, and use our easy to use online banner design tools to customize your buying message any way you want. Our online designer will make it easy for you to modify any template so that your banner contains the unique color schemes, desired fonts and type styles for your banner ads. We also allow you to upload your own graphics and logos onto these sign templates, so even if you have a graphical logo you want to use for your Gold banners, you can easily add your logo and any other graphics you want for personalizing your buying message.
Be rest assured, when you buy any of our vinyl banners, high resolution printing is what you can expect from the banners you will receive from Printastic.