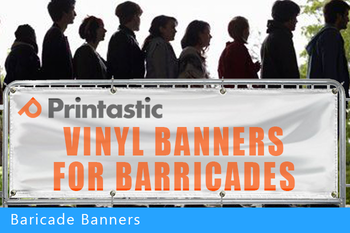 Custom Barricade Banners
Earn extra value from barricades by transforming them into billboards to promote your business or message.
Barricade jacket banners let you direct people while connecting with them. Feature event information, advertising, sponsorships, and more with custom barricade banners that you can install on crowd prevention barricades.
Our jackets are sized and designed to fit common barricade configurations used to contain and control crowds. Heavy-duty vinyl material is more durable and banners are faster to install than standard fabric barricade wraps. They're also easier to clean and maintain, requiring only simple hand soap and water spray.
Barricade Banner Printing Specifications
We give you choices, so you can create barricade banners that are ideally suited to how you want to use them.
Barricade jacket material
Choose 13oz heavy-duty vinyl for standard applications, in areas with light to moderate exposure to wind and weather. For locations exposed to higher winds, choose our lightweight 8oz mesh vinyl, for better performance and service life.
Banner sizes
Our standard size is 3 feet high, because this fits standard crowd control barricades. Most crowd barricades are 6-8 feet wide and we offer sizes in increments of 4, 6, 8, or 10 feet wide. If you need barricade jackets in non-standard sizes, please contact us for custom sizing.
Barricade Banner Frequently Asked Questions
Learn more about how to get the most value and satisfaction from your custom barricade banners.
How do I install barricade banners?
We design our barricade banners with grommets at all four corners or every two feet, depending on what your barricade requires. Zip ties are included with your order: simply insert a zip tie into each grommet hole and along the barricade's railing for secure crowd-facing installation.
Do I need banners on both sides of my barricade?
If the crowd is prevented from accessing one side of the barricade, only one custom banner per barricade should be needed. However, if the crowd is present on both sides of the barricade, a banner on each side provides visibility from both directions.
Can my barricade banners include full color process printing?
Yes. We digitally print our banners and you can include high definition full color process graphics on your banners.
Can I get custom size or shape barricade banners if needed?
We do accept special requests if your barricade banners require non-standard sizes or special shapes. Please contact us for a custom quote.
Extend Your Engagements with Custom Barricade Banners
Start creating your design now, using our convenient online design tool. You can also contact our support team with any questions or special orders. Barricades aren't just for controlling crowds, they can also be used to connect with them—we are ready to help you!
---