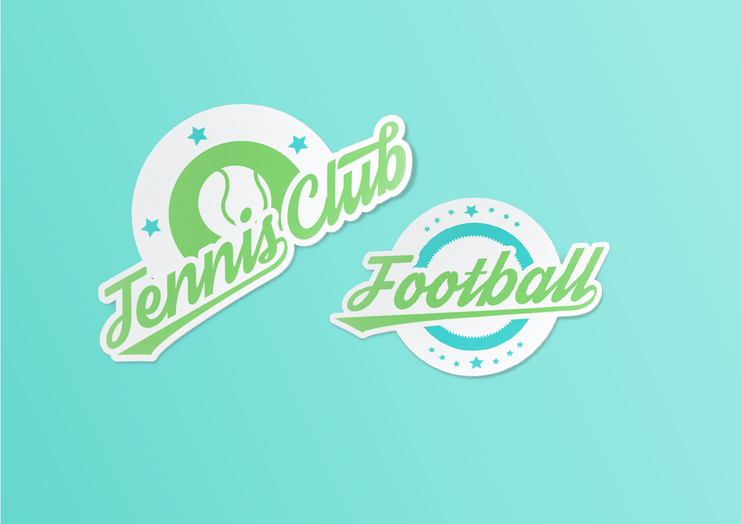 Die Cut Stickers
Our die-cut stickers come contour-cut around any simple custom shape you provide in your design file. The contour cutting capability allows us to cut the stickers into a simple finished shape that you can lift off from the backing and apply as a single sticker to any smooth flat surface. Shapes that come to mind include company logos, emblems, symbols, sports characters and mascots (with and without team names), player names, web addresses, and the like. Your entire design will be cut around its perimeter to create a single piece contour cut sticker with the shape closely following your design. If your design file includes a vector shape layer, you'll be in full control of the cutting shape, and can get a specific form and shape you need. The stickers come on sheets of vinyl ready for peel and stick, either individually on the sheet or combined several per sheet for smaller sizes to maximize production.
Our standard die-cut stickers are ready for indoor and moderate outdoor use. With optional clear luster laminate, these stickers last outdoors for up to five years, withstanding harsh UV, weather, cold, hot, scratch, and abrasive conditions. This makes them the perfect sticker for rear windows and emblems, sports equipment personalization and team stickers.
Overview
Print Process
Printed in the high-resolution mode on high definition eco-solvent printers, our laminated stickers provide the sharpest detail even down to a 3pt text, with rich colors and smooth gradients, with no pixelation or blur. Our printers use an 8 color ink set for amazingly vibrant color at 1440 DPI print resolution.
Materials
Stickers are printed on 3M brand gloss calendered vinyl, are water and UV proof, and can be used both indoors and outdoors. 3M gloss vinyl features strong, permanent adhesive that provides excellent adhesion to most standard surfaces and is considered non-removable, meaning that the sticker will create a semi-permanent bond to the surface it was applied to and may not be possible to remove without damaging the sticker itself or the application surface. It is advised and a full customer responsibility to test the application surface and make your own determination if it is appropriate for sticker use.
Optionally, stickers can be laminated with intermediate 3M Luster Laminate applied, for added UV & Water resistance, with very strong resistance to chemicals, solvents, and abrasion. The ink set UV fade resistance is further expanded by the lamination process ensuring that color won't fade for up to 5 years of use under normal conditions.
Sizes & Shapes
By default, this product comes contour cut into the single die-cut shape you included in your design. Custom shape stickers are contour cut around your desired shape, and come combined few per sheet to maximize the efficiency of production. Stickers are available from a minimum size of 2x2-inches all the way up to 12x12-inch size, entered as Height x Width in inches.
Custom shape cutting is only available if you provide a vector contour shape for cutting in your file. Unless included in your design file, contour cutting is not possible. Please follow our file setup instructions that include necessary steps to create vector cut shape for cutting.
File Submission Specs
We manually inspect every single file you upload before printing and will only proceed with your order if it can be printed at absolute 100% stunning quality with no compromises.
Larger files can be zipped and transmitted via any non-password protected cloud file sharing service
Bleeds
Bleeds are required for all die cut and contour cut stickers. Use 0.125 bleeds all the way around every cut path. All custom cut orders missing the bleeds will be rejected. For more details on bleed setup, please see our Die-Cut File Setup Guide or contact us directly.
JPEG / PNG
Set to actual sticker size, at 300dpi, RGB Color Mode, with no compression, Photoshop quality level 12
PSD / PSB / TIFF
Set to actual sticker size, at 300dpi, RGB Color Mode. Combine all layers into single background layer
PDF / AI / EPS
Set to actual sticker size. RGB or CMYK Color Mode. Embed all linked images. Convert all text to outlines. Expand all strokes. Only use high res raster images at 50-100% scale. Files should not be password protected, if availavle export to PDF
Warranties
Absolutely no warranty or guarantee of any sort is implied or provided
Printastic.com, it's employees, contractors and affiliates provide absolutely no warranty on any adhesive vinyl product we sell. Any and all information provided by Printastic.com is for reference use only. It is the customer's sole and full responsibility to test and determine if any Printastic products are a proper fit and should be used. Printastic.com shall not be held liable for any damages or failures arising from the direct or indirect use of Printastic's adhesive products. Printastic's sole liability shall be limited to the product replacement or refund of original order value only.
---