Home

\

Garage Door Banners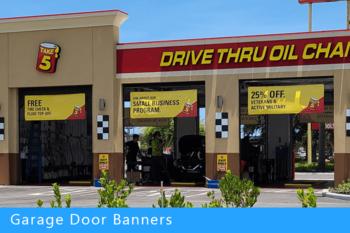 Garage Door Banners
Specialty designed garage door banners custom sized to fit single, double and tall garages.
Businesses and homes with a garage provide the perfect area to hang custom printed vinyl banners to celebrate any holiday throughout the year or advertise business services and sales events.
We have custom sized the dimensions of the banners we print to fit any standard sized garage door. From single one car garage bays to double car garages, you will be able to easily select the custom sized banner you need for the garage door at your location. Even if your business or warehouse has those large garage bay doors for shipping and receiving, we have large garage door banner sizes to custom print any advertisement or message.
Garage Door Banner Specifications
Single and double garage doors have the same standard height ranging from seven to eight feet, while their widths are much different. Single garages have doors that range from eight feet to ten feet in width, while double car garages have extended widths that start at sixteen feet and usually do not exceed eighteen feet. These dimensions will cover the majority of single and double garage doors, so we have included each incremental size in our garage door banner selection lists for easy ordering. We do suggest, measuring your garage door size before ordering to ensure you choose the size that best fits the garage door(s) you need banners for.
Since we cater to many businesses needing banners, we looked at a variety of garage bay doors business often use and found that the heights of a garage bay door can exceed the average standard heights seen on most garages, so we wanted to pre-size a variety of large garage bay door sizes for printing banners as well.
If after measuring your garage door to determine the preferred banner you will want to use and find that your garage door does not fit one of our pre-configured sizes, please contact us for a custom quote. We are happy to quote custom sized garage door banners also.
Included in our default cost of these banners, we provide bottom and top pockets so a dowel or pole can be inserted across the garage door banner to prevent unnecessary sagging. Additionally at no extra cost, we include grommets situated every two feet positioned on all four sides to help better fasten your banner to your garage door for additional safety precautionary measures.
Garage Door Banner Advertising Ideas
Many businesses in our community have garages on premises for a range of purposes. From garage bays for servicing vehicles to using garages for shipping and receiving, changing oil and basic gas station auto repair. This space provides an excellent opportunity for large formatted custom printed banners that can be used to to provide specials for discounts, incentivize passerby's to stop in for services, and help bolster a business' brand.
Garage Banner Frequently Asked Questions
Are Your Banners Customizable?
Yes. Once you decide on the size of the banner you need for your garage door(s) you can upload any artwork you want us to print. We do not limit the colors that you can use, the message you want to communicate, or the design you want create.
Are your garage door banners easy to install and remove?
Yes. The top horizontal banner pocket allows you to insert a dowel to span the width of the banner, which can be used to easily hang and remove your banner from a single point on the garage door similar to how a picture is hung on a wall.
Is a Garage Door an ideal space for advertising?
Garage doors provide for an excellent space for positioning large format banners that are easily seen to passing traffic. Close to a large billboard sized display, garage door banners will help monetize what would otherwise be wasted space.
If I Do Not See My Garage Door's Size, Can I Order The Exact Size I Need?
Yes. If you do not see the exact size you need from our standard garage door banner sizes, please contact us for a quote. In most cases, we will not need to increase pricing for custom sized products.
---