Home

\

Garage Door Banners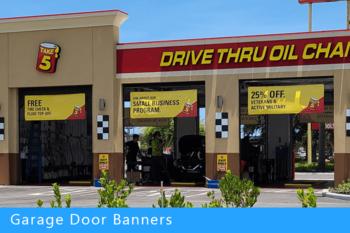 Custom Garage Door Banners
Specialty-designed garage door banners custom-sized to fit single, double, and tall garages.
Your garage, whether it's at your business or home, provides a perfect space to mount custom-printed vinyl banners to celebrate any holiday or special occasion, advertise your business, or promote an event. We have custom banners to fit any standard-size single, double, or tall garage door.
You can quickly and easily select the custom size banner you need for your garage door. Does your business or warehouse have large garage bay-style doors for shipping and receiving? No problem, we have large garage door banner sizes made to fit—check our online design tool to get started!
Garage Door Banner Specifications
Single and double garage doors have the same standard height, ranging from 7-8 feet, however their widths can vary significantly. Single garages have doors that range from 8-10 feet wide, while double car garages have extended widths that start at 16 feet and usually do not exceed 18 feet. For precise sizing, we offer incremental sizes using our online design tool—measure to find your garage door size and you'll find the perfect fit!
For garage bay doors, the height typically exceeds that of singles and doubles. We also offer incremental sizes for a precise fit for garage bay doors, please measure prior to ordering.
For any type of garage door, if you measure and cannot find the precise size on our online design tool, please contact us for a custom quote.
Bottom and top pockets for your garage door banner are included at no extra cost. These allow you to insert a dowel or pole to prevent sagging. We also include grommets spaced every two feet, positioned on all four sides of our garage door banners, at no extra cost. Grommets make fastening your banner easier and safer.
Garage Door Banner Advertising Ideas
Our business customers have been very creative in their garage door banner designs and uses:
Advertising for discounts, sales & special events
Business branding & promotions
Anniversary announcements
Holiday & seasonal greetings
Parking or delivery instructions
These banners are large, highly visible, and ideal for attracting the attention of customers and passersby, to better promote your brand and boost business.
Garage Banner Frequently Asked Questions
Can I customize my banner design?
Yes, we encourage you to! Once you select the banner size, you can upload any artwork you want us to print. There's no limit to the colors you can use, the message you want to communicate, or the design you want create. Our online design tool is your canvas to be as creative as you want!
Are your garage door banners easy to install and remove?
Absolutely. The top horizontal banner pocket allows you to insert a pole to span the width of the banner, which can be used to easily hang your banner from a single attachment on the garage door, similar to how a picture is hung on a wall. Despite the heavy-duty vinyl material, our banners are easy to remove and transport.
Is a garage door useful for advertising?
Garage doors provide an excellent space for mounting large format banners that are easily seen by passing traffic and pedestrians. The size in some instances is comparable to a billboard that companies pay thousands of dollars for! Our garage door banners are easy to see and can help monetize what would otherwise be wasted space. Banners that celebrate a holiday or special event can also beautify a building or share community spirit.
I don't see my garage door size on your online design tool—can I order the exact size I need?
Yes, we can work with non-standard sizes. Please contact us for a quote. In most instances, custom sizes do not require a higher price!
Garage Door Banners for Business or Home—Printastic Makes Them Quickly for a Great Price!
Let your garage door be a canvas to promote the things that are important to you. Printastic makes it easy, with fast and affordable design, printing, and delivery for garage door banners.
Use our online design tool to get started, or contact our support team with any questions or special orders. Make your garage door work for you!
---