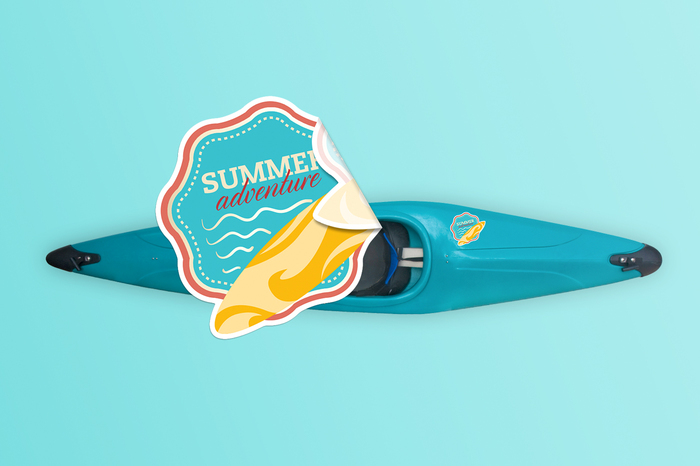 High Tack Stickers
Custom-printed high tack stickers and decals with aggressive adhesive will stick to most hard-to-stick surfaces!
We've designed our super sticky, high tack stickers for application on hard-to-stick materials, like those found in certain kinds of kayaks, ATVs, water coolers, bumpers, and other sports equipment. Our specially-formulated, high tack stickers have adhesive with a strong initial tack that gets stronger with time for a strong final adhesion. In fact, this adhesive adheres so well, we would recommend applying these stickers only if you're planning to keep them on and never remove them. The design of our 2 mil. Orajet vinyl lasts for up to seven years of indoor and limited outdoor use. With optional clear 3M cast laminate, outdoor performance extends greatly with added UV, scratch, and abrasion protection. Available in sizes from 2x2 to 8x8 inches, we offer the high-tack decals in rectangular shapes, with optional contour cutting to a single die-cut shape including circles, ovals, or any custom contour shape included with your file.
Materials
Orajet 3951HT cast gloss high-tack vinyl
White gloss 2 mil. cast ORAJET vinyl with permanent high-tack adhesive with high initial tack and final adhesion. Designed for outdoor use for up to five years with limited scratch and abrasion resistance on hard-to-stick low energy surfaces like some plastics, moldings, and powder-coated surfaces.
Optional eight year 3M 8518 cast gloss overlaminate
This optional cast 2 mil. gloss overlaminate extends outdoor life of reflective decal up to eight years and adds additional UV, scratch, and abrasion protection.
Durability
The standard high-tack stickers are outdoor durable for up to five years under perfect conditions, if applied to flat, smooth surfaces in indirect sunlight. Optional 3M cast gloss overlaminate extends product life for up to eight years outdoor with added UV, scratch, and abrasion protection.
Available Shapes
By default this product comes cut into individual rectangular shapes staggered on a sheet of vinyl. Optionally, you can choose to have it cut into following shapes:
- Ovals
- Circles
- Custom-cut shapes
Custom shape stickers are contour-cut around your desired shape and come combined several per sheet to maximize efficiency of production. Custom shape cutting is only available if you provide a vector contour shape for cutting in your file. Unless included in your design file, contour cutting is not possible. Please download and follow our file setup instructions below that include necessary steps to create a vector contour shape for cutting.
---