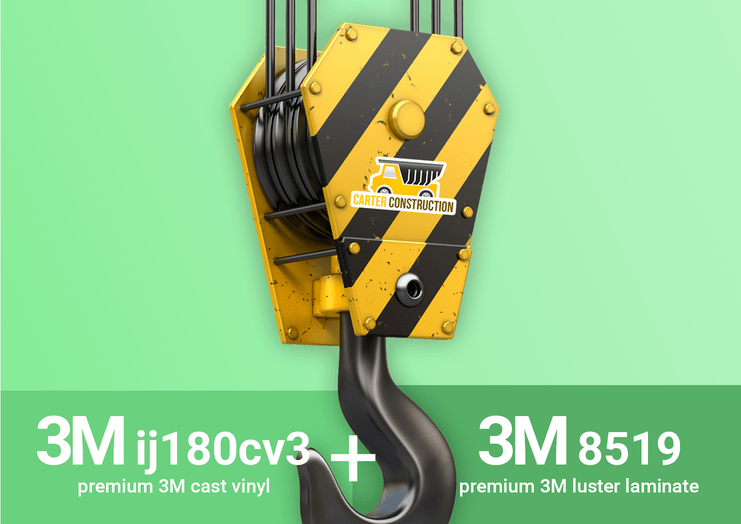 Premium Laminated Stickers
Extremely Durable 3M Cast High Performance Laminated Vinyl Stickers
When you need the ultimate sticker that will last for years, enduring the roughest conditions, look no further than our laminated stickers. Whether you need something for use outdoors, indoors, on a still or moving object, or subjected to snow, ice, rain, hot and cold, our laminated vinyl stickers are the answer. Printed on industry leading 3M cast vinyl, our laminated stickers are designed to withstand even the toughest outdoor elements for up to 8 years. On top of that, for additional protection against UV damage, moisture, scratches, and abrasions, these stickers come laminated with clear luster 3M cast laminate film that significantly adds to the sticker's durability, scratch, and chemical protection. The bottom line is this - when you need a sticker that will last for years and take a lot of abuse, Printastic's laminated vinyl stickers will do the job and last for the better part of a decade.
In addition to simple square and rectangular shapes, laminated stickers come contour-cut to any custom single shape you need. The shape can be anything from your logo or emblem, to any simple custom shape with any information and graphics you need printed in crisp bright full-color digital printing. This makes it the perfect sticker to permanently mark tools, equipment, electronics and machinery – indoors and out for years to come, with no shrinkage or peeling and with excellent protection to the printed message.
Overview
Print Process
Laminated stickers are completely orderless, dry, water & UV proof, with no tack, smooth to the touch, with protective 3M luster laminate
Printed in the high-resolution mode on high definition eco-solvent printers, our laminated stickers provide the sharpest detail even down to a 3pt text, with rich colors and smooth gradients, with no pixelation or blur. Our printers use an 8 color ink set for amazingly vibrant color at 1440 DPI print resolution.
Each sticker comes completely laminated with premium, cast, 3M 8519 Luster Laminate applied, for exceptional UV & Water resistance, with very strong resistance to chemicals, solvents, and abrasion. The ink set UV fade resistance is further expanded by the lamination process ensuring that color won't fade for up to 8 years of use under normal conditions.
Material Specs
3M IJ180Cv3 Vinyl + 3M 8519 Luster Overlaminate
Type

3M Cast Vinyl + 3M Luster Cast Laminate
Thickness

4 mil total (2 mil vinyl + 2 mil laminate)
Finish

Luster
Lifespan

Up to 10 years indoor; 8 years outdoor
Adhesive Type

Removable up to 2 years under normal use conditions
Adhesive Color

Gray
Sizes & Shapes
Stickers are available from a minimum size of 2x2-inches all the way up to 12x12-inch size, entered as Height x Width in inches, and available in many standard shapes - square, rectangle, oval or round. Rectangular shapes feature optional .125-inch rounded corners to prevent corner peeling or "dog earing". Optionally, laminated stickers can be contour-cut to any simple single shape you need. The shape can be anything from your logo or emblem, to any simple custom shape.
Finishing
The smaller size stickers are printed and combined on sheets, typically 4-8 per sheet, while larger sizes come individually ready for peel and stick out of the box.
File Submission Specs
We manually inspect every single file you upload before printing and will only proceed with your order if it can be printed at absolute 100% stunning quality with no compromises.
Larger files can be zipped and transmitted via any non-password protected cloud file sharing service
Bleeds
Bleeds are required for all non-standard shape and contour cut stickers. Use 0.125 bleeds all the way around every cut path. All custom cut orders missing the bleeds will be rejected. For more details on bleed setup, please see our Die-Cut File Setup Guide or contact us directly.
JPEG / PNG
Set to actual sticker size, at 300dpi, RGB Color Mode, with no compression, Photoshop quality level 12
PSD / PSB / TIFF
Set to actual sticker size, at 300dpi, RGB Color Mode. Combine all layers into single background layer
PDF / AI / EPS
Set to actual sticker size. RGB or CMYK Color Mode. Embed all linked images. Convert all text to outlines. Expand all strokes. Only use high res raster images at 50-100% scale. Files should not be password protected, if availavle export to PDF
Warranties
Absolutely no warranty or guarantee of any sort is implied or provided
Printastic.com, it's employees, contractors and affiliates provide absolutely no warranty on any adhesive vinyl product we sell. Any and all information provided by Printastic.com is for reference use only. It is the customer's sole and full responsibility to test and determine if any Printastic products are a proper fit and should be used. Printastic.com shall not be held liable for any damages or failures arising from the direct or indirect use of Printastic's adhesive products. Printastic's sole liability shall be limited to the product replacement or refund of original order value only.
---