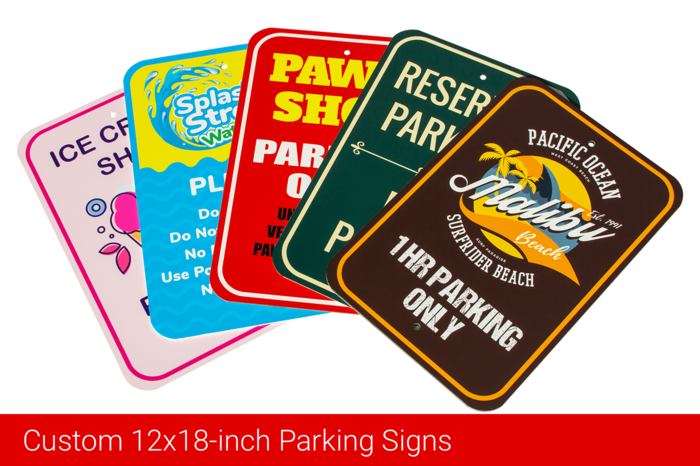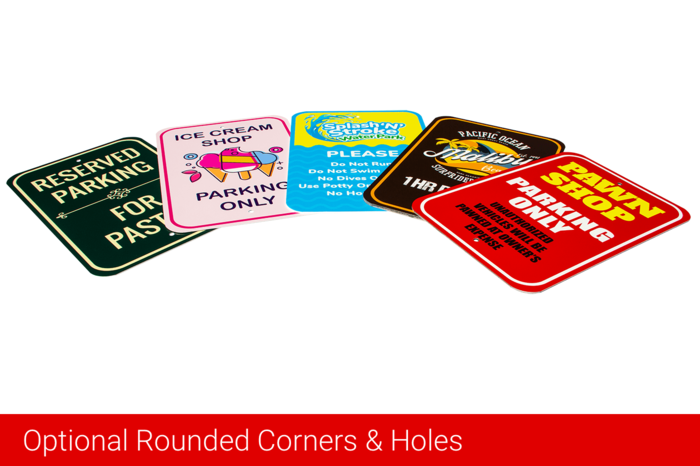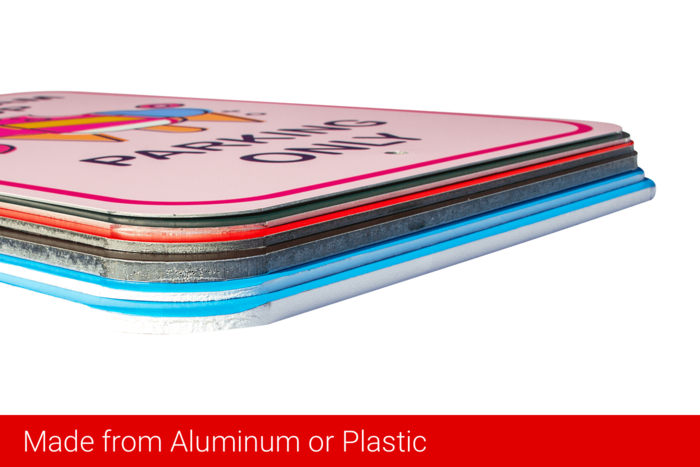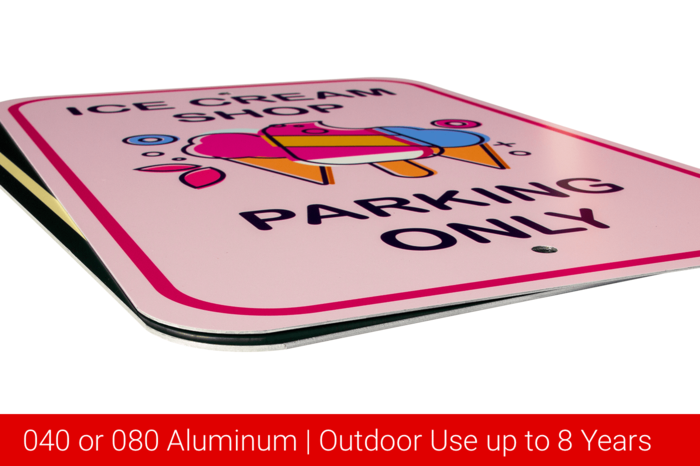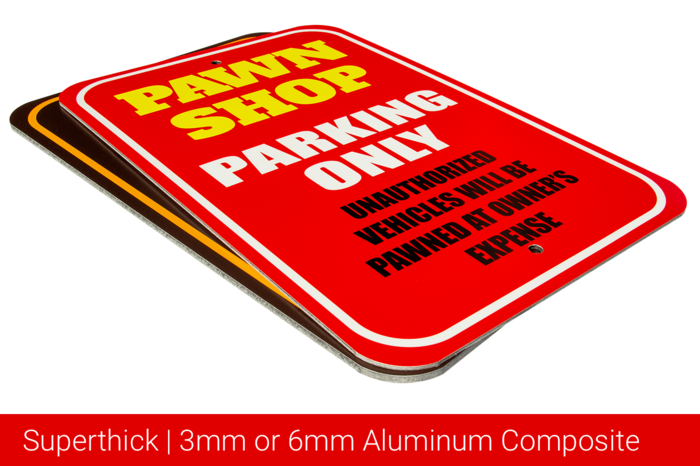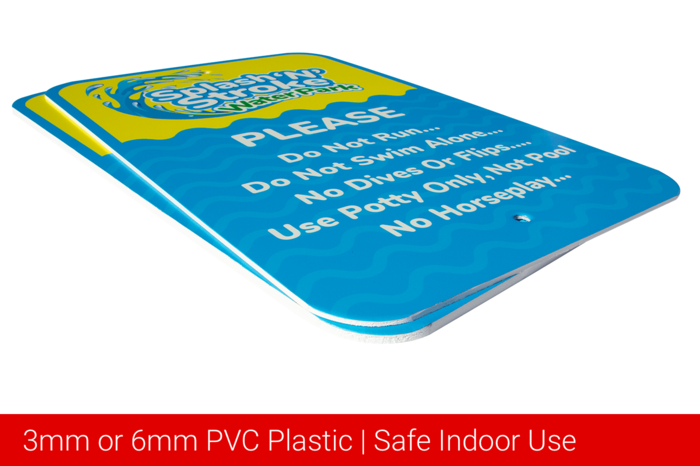 Custom Parking Signs
Our customizable parking lot signs are perfect traffic communication tools for businesses, churches, clubs, or organizations with a physical location that includes just a few parking spaces or an entire parking lot. Custom printed on PVC, .040 or .080 Aluminum, or Composite Aluminum with any type of artwork you'd like, these signs can be used for safety to mark off heavy traffic or closed areas, for employee recognition and reserved management spaces, and for identifying spaces that are only for certain protected classes.
With three different material options, countless customization options, and a wide variety of uses, our parking lot signs are an affordable and useful long-lasting option for both indoor and outdoor use.
Material Options
Material:
Printing is available in five different material options to suit any need
Outdoor durable .040 aluminum
Outdoor durable .080 aluminum
3mm Aluminum Composite
6mm Aluminum Composite
Safety Friendly Indoor PVC Plastic
Printing:
Printed and laminated with outdoor durable 8-year premium 3M vinyl & overlaminate
Sizes:
Vertical
18 x 12 (this is a standard parking sign)
Shape and Mounting Options:
Optional 1.5-Inch Radius corners
Optional 3/8-inch Mounting Holes
Recommended uses:
Optional 1.5-Inch Radius corners
Optional 3/8-inch Mounting Holes
Order These Signs for Your Business or Location
An Important Reminder:
We want to remind our customers to use our these signs in the safest and most responsible way possible. This includes researching and remaining in compliance with all local codes, laws, and regulations before displaying signs in parking lots. Always check with local officials, code enforcement officers, and other city zoning personnel for permission.
Create Custom Carryout Signs to Identify Carryout Parking Spaces
Many business offer reserved parking spaces for a variety of reasons and will use a parking sign to make drivers aware of a parking space's reserved status. Maybe your restaurant has carryout and wants to reserve parking in front of the restaurant for carry out only customers. By designing a custom carryout parking only sign to make other patrons aware, will provide a more convenient food pickup location. Custom carryout parking signage outfitted with your logo makes for an easy identifier to keep spaces free for carryout orders while providing your restaurant with one more way to promote your brand.
Make Custom Signs For Employee of The Month Parking
Many business know that designating a front parking space for their employee of the month is an excellent incentive for employees to strive to be their best at work, and by using custom signs to mark the employee of the month will provide all the recognition and bragging rights an employee needs without saying one word about their status.
Using Signs for Wayfinding
Custom wayfinding signs are perfect for directing traffic, identifying no parking zones, and preventing unwanted traffic from stopping or standing in an area they shouldn't be.
Frequently Asked Questions
Does Your Parking Signage come with hanging hardware?
At this time, our these signs are not sold with any kind of hanging hardware. However, the hardware needed to hang these signs securely is easily available at any big box or local hardware store.
Can I safely clean an aluminum sign?
Yes - our aluminum signs can be effectively washed with a mix of detergent and water. Be sure to rinse completely after cleaning. If you're using a more abrasive or chemical cleaner, test the product on a small portion of the sign to prevent damage. Any cleaners using chloride, acetone, or other such chemicals should be avoided.
If your sign has been vandalized by spray paint or permanent marker, we recommend spraying the stain with isopropyl alcohol and letting it sit for a minute or two. Then use a soft dry cloth putting pressure on the stain to wipe away. Repeat as necessary.
What type of signposts should I use?
In order to make sure your signs are securely and safely installed, we recommend only using U-Channel sign posts.
Should a parking sign be a specific size?
Though there is no official recommended size, most experts agree that a portrait-oriented sign measuring 18 inches high by 12 inches wide would be considered the standard. Our parking signage is available in the following sizes:

Vertical / Portrait oriented:
18 x 12 (this is a standard parking sign)
Reminder: Your city, state, or locality may have specific regulations on when using signs in your parking lot, so we recommend checking with local laws to make sure the signs you use are in compliance to city ordinances.
---