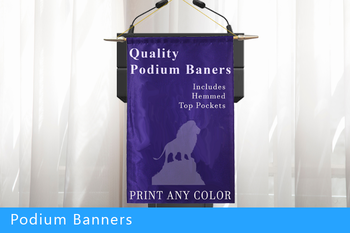 Custom Podium Banners for All Occasions
Create the ideal decorative podium banner for speeches, presentations, forums, or any special event.
Upgrade your presence at any formal event or important occasion with custom designed podium banners. These attractive, high quality banners display professionalism that can add impact to any event:
Seminars & forums
Speaking engagements
Academic gatherings & commencements
Trade shows
Industry gatherings
Press conferences
With a custom podium banner that displays your organization's name and emblem, you project a more confident and professional appearance that is ideal for impressing crowds. You can more effectively brand your message and promote your organization.
Podium Banner Specifications
Here's what you need to know about our exceptional quality custom podium banners:
Available sizes
We have banner sizes in widths of 1-3 feet, which fit most podium sizes. The most common podium height is 4-5 feet: we offer podium banner heights of 1-5 feet, so you can choose the size that's best suited for your messaging.
We recommend our larger sizes for your podium banners, if possible. This ensures that spectators at greater distances can see your podium banner and its message. A comparatively small podium is still suitable to mount a larger banner: the hemmed pockets will keep the banner taut and even.
Banner material
Our most affordable option is 13oz matte vinyl. This material is lightweight, durable, and provides ideal sheen and clarity for indoor displays.
Our premium offering is wrinkle-free, 250g polyester fabric that is dye-sublimated for fade-proof performance. This specialized banner fabric is designed for attractive looks and superior durability.
Color options
We can print any combination of colors you like. We use digital full process color printing technology, which allows for photo-clarity resolution.
Pocket options
As standard, our custom podium banners include a top-hemmed pocket that fits a roped dowel for mounting—you can optionally add a bottom pocket if you want to insert a weighted pole to keep the banner taut and optimally visible.
Upgrade Engagement with Custom Podium Banners
You want to look as professional as possible for important events. With an attractive podium banner, you can make the very best impression with your audience.
Begin your design now, using our online design tool. You can also contact our support team with any questions or special orders. We're ready to upgrade your stage presence today!
---
product reviews
5
1 product reviews
see all reviews

Jackie
on June 17, 2023
The banner was so easy to create and came so quickly! Everyone was very impressed with it!