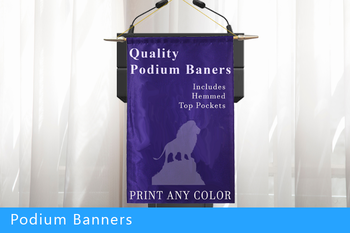 Custom Podium Banners
Communicate your brand and topic more effectively at any speaking event with custom podium banners.
Whether you are promoting a seminar, or advocating a specific agenda for any topic at a speaking gathering, the host will always provide the speaker with a podium, so why not use the side of that podium facing the crowd of people attending the event for advertising your company. Draping a custom printed podium banner on the side of the podium facing the crowd is an excellent way to brand your message and grow your business.
Podium Banner Specifications
Depending on the width of the podium you will be speaking behind, we have sized the podium banner's width from 1 to 3 feet with two feet in width being the most popular. Podium average heights range from 4 - 5 feet, so we have included banner sizes for heights that range from one foot for a partial display up to five feet to drape the entire height of a taller podium. Our size ranges will ensure any custom sized banner you may need at your next speaking event can be easily designed.
By default we include a top hemmed pocket for inserting a roped dowel for mounting, and you can optionally add a bottom pocket for podium banners that might need to be weighed down for tautness.
Podium Banner Frequently Asked Questions
Can I print any color combination?
Yes. We digitally print our podium banners in full process color, so even if you want to include a banner that needs photo clarity resolution, we have you covered.
What is the optional bottom hemmed pocket used for?
You can use the bottom hemmed pocket to insert a rod or dowel for added bottom weight to the banner. The extra weight will ensure your banner tautly drapes on the podium for a better presentation.
What type of materials do you use when printing podium banners?
We actually suggest using 13 ounce vinyl for affordability. The 13 ounce matte vinyl provides just the right amount of sheen and clarity for indoor displays. However, we also will print on 250g knitted polyester for individuals looking for fabric podium banners.
Is a larger podium banner better than a smaller display?
We always suggest printing larger if you can to ensure spectators from a distance can interpret your brand and message. Even if the podium you are speaking behind is small, the hemmed pockets of your banner will keep your banner taut even when overlapping the podium it is hung from.
---