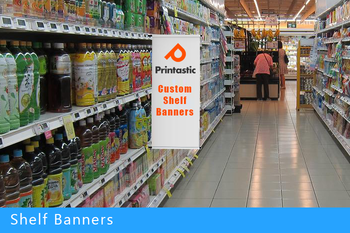 Shelf Banners
Pole mount tiny protruding shelf banners from retail store shelves to promote POS sale items, clearance products and new products your store may be testing for selling.
Particulary popular with grocery stores and pharmacies, shelf banners are an eye stopping POS display that are an excellent way to highlight certain shelved products a retailer wants to emphasize over other brands.
Products placed on retail shelves often get blended and cluttered with all other shelved products. Shoppers are in a hurry, so if certain products do not stand out, the average shopper will simply buy what they are familiar with. However, you may want to feature certain brands that incentivize your store with higher profits if you hit a certain volume. By featuring these products on eye catching shelf banners that protrude from the shelf where these special incentivized brands can be found is an excellent way to increase sales.
Shelf Banner Printing Specifications
Shelf banners are subject to indoor lighting conditions, so we use our 13 ounce matte vinyl for the ideal printing needed to stand out indoors. We hem top and bottom pockets to slide into the rod mounting POS shelf kits, and our sizes include only 1 foot widths with heights starting at one to four feet. Exceeding one foot in width would allow your shelf banner to protrude too far into the aisle, and providing a maximum height of only four feet ensures your banner will fit any POS Shelf signage kit.
Shelf Banner Frequently Asked Questions
Are Shelf Banners Customizable?
Yes. you can customize your POS artwork to exactly match the branding, color scheme and product promotion you want to include.
Does Repositioning My Shelf Banners Help?
Yes. We suggest moving featured products along with the shelf banner to different aisle locations periodically to increase visibility and brand awareness.
Should I add pricing for featured items on my shelf banner displays?
Instead of pricing which can be added to other signage near featured products, we suggest using shelf banners to engage shoppers with a value proposition on benefits of using or consuming the product.
Do you provide the sheving sign hardware for with the banners?
We do not supply the hardware used to mount these banners onto shelves. First, hardware that is used to protrude a rod from the shelf can be found at any hardware store and used to insert into the banner's top and bottom pockets. Also retailers that regularly use shelf banners already have the mounting kits and only need the banners.
---