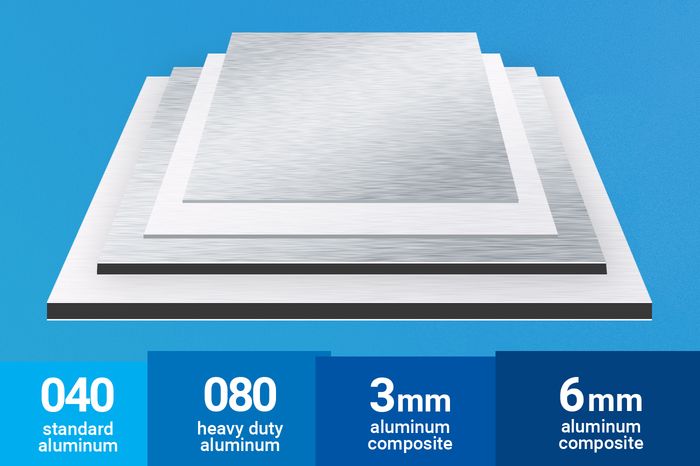 30"x18" Signs Options and Specs
Our 30" x 18" signs are available on a range of substrates to meet the requirements of indoor and outdoor display environments. Choose from Aluminum or Aluminum Composite Materials for premium metal signs that can be used virtually anywhere, corrugated plastic signs for mid term outdoor affordability or PVC Signs for strong and lightweight indoor display signage. All 30" x 18" signs can be printed on one or both sides. Options include your choice of mounting holes or grommets for mounting and square or rounded corners.
Many other sizes available, see the all sign sizes page
Pricing and Substrate Options
30x18 Aluminum Signs
starting at $75
Aluminum signs from Printastic provide a rigid, durable display option that won't rust and can be placed just about anywhere. These all-metal signs can be easily mounted on chain link fences, concrete walls, brick walls, wooden fences or signposts.
040 & 3mm - lightweight aluminum for outdoor signs mounted to a solid backer
080 & 6mm - thick and strong aluminum for industrial grade signs
Product Lifespan is up to 8 years outdoors, laminated with 3M high performance printed cast vinyl and matching laminate
30x18 Corrugated Plastic Signs
starting at $55
Corrugated plastic signs are extremely popular - they're budget friendly, easy to use, versatile and can be used for just about anything. These signs are waterproof and economical and can be used outdoor for mid to long term.
4mm - Suitable for all indoor and outdoor projects
Product Lifespan is up to 3 years outdoors, printed directly onto the substrate with UV inks
30x18 PVC Signs
starting at $55
PVC signs can help project a high-quality, professional image. Strong and durable, these PVC plastic signs offers a great solution for long-term premium finish indoor signs and displays that can be fastened to interior walls with most standard mounting hardware.
3mm - great for indoor signage used with sign holders and frames
6mm - additional thickness provides added rigidity and weight for free hanging, larger and more substantial signage
Product Lifespan is up to 5 years indoors, printed directly onto the substrate with UV inks
File Setup for Printing 30"x18" Signs
Adobe Photoshop (also applies to all Raster Files)
- set up artboard to be 30" x 18" in inches
- set dpi to be anywhere from 150 to 300 dpi
- regular RGB or sRGB color space
- save as 100% quality jpeg file
Adobe Illustrator (also applies to all Vector files)
- set up canvas to be 30" x 18" in inches
- regular RGB, sRGB color space, or
- Coated GRACol or Coated US SWOP v2 color space
- embedded raster images should be at least 150dpi at actual size
- embed all raster images
- convert all text to outlines
- expand all strokes
- save as a pdf file
Layout
Portrait (Vertical)
30in. high by 18in. long

Printing
High resolution
Full color printing
UV & weather proof
Shipping
Signs shipped flat in a well padded box
May incur additional packing and handling