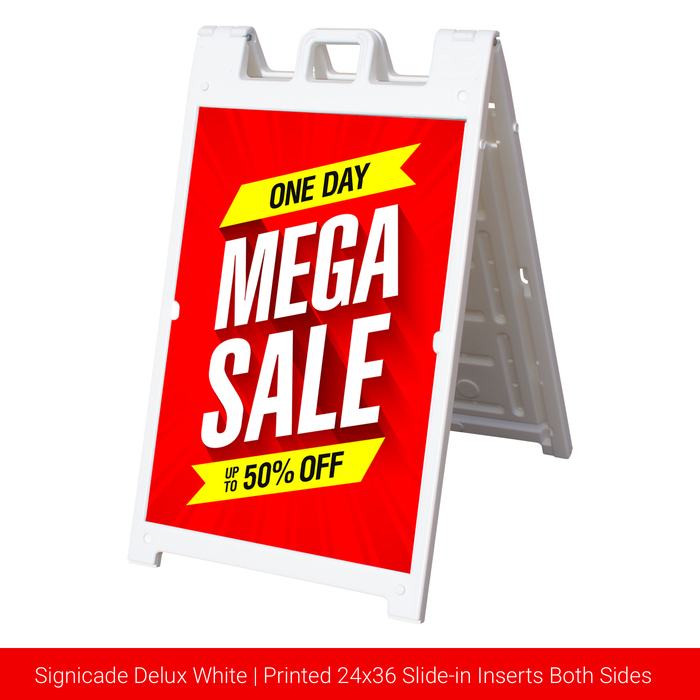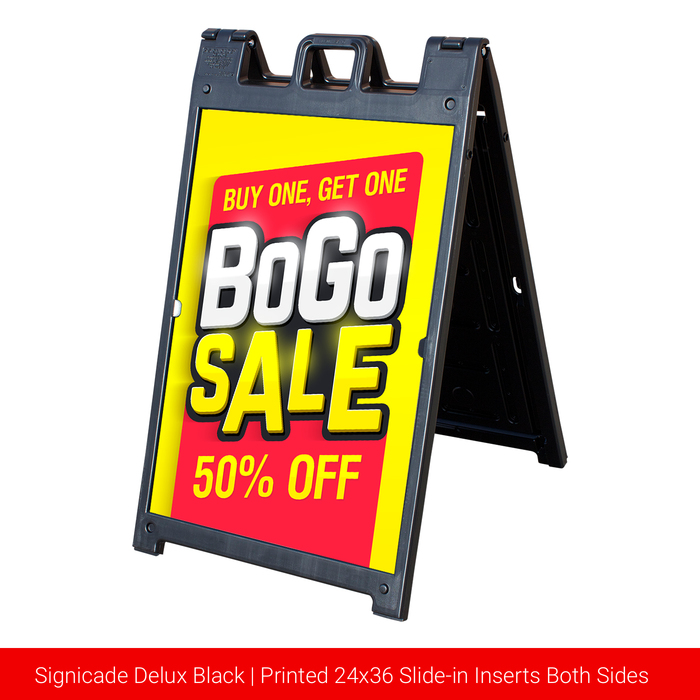 Signicade A-Frame Signs
The Indestructible and Versatile Outdoor Signicade Delux Slide-In A-frame Signs
Signicade A-Frame Signs are by far the most popular and most versatile outdoor A-frame signs on the market. Made by Plasticade, it has been around for years and proved itself many times over to be the most durable, usable, and efficient sidewalk A-frame sign available. The Signicade A-frame is all plastic with no rusting parts, and made of the similar indestructible plastic as milk containers. It can be used for years with virtually no damage and will show very little wear from throwing around and carrying in and out on a daily basis. It is designed to be used outdoors, has a molded handle for moving around, comes at 18 lbs. for added stability and wind resistance, and optionally can be internally ballasted with sand, making it even more suitable for long-term unattended outdoor use.
The Signicade Delux A-Frame is 47 inches tall, and about 27 inches wide, featuring a 3x2 feet plastic graphic panel on each side. The type we sell is a Deluxe slide-in model in white or black, where the graphics are attached by simply and securely sliding into the frame, allowing for quick and convenient graphics changes.
Specs
Comes printed on both sides and ready to use
Brand Name

Signicade Delux (Made by Plasticade)
Frame Size

47" High x 27" Wide
Frame Weight

18 Lbs
Graphic Panel Size

36" High x 24" Wide
Included Graphic Panels

Two
Panel Material
Panel Attachment

Securely Slides in
File Submission Specs
We manually inspect every single file you upload before printing and will only proceed with your order if it can be printed at absolute 100% stunning quality with no compromises.
Larger files can be zipped and transmitted via any non-password protected cloud file sharing service
JPEG / PNG
Set size to 36x24-inches, at 100-300dpi, RGB Color Mode, with no compression, Photoshop quality level 12
PSD / PSB / TIFF
Set size to 36x24-inches, at 100-300dpi, RGB Color Mode. Combine all layers into single background layer
PDF / AI / EPS
Set size to 36x24-inches, RGB or CMYK Color Mode. Embed all linked images. Convert all text to outlines. Expand all strokes. Only use high res raster images at 100% scale. Files should not be password protected, if availavle export to PDF
---
product reviews
5
1 product reviews
see all reviews

Stacy
on January 16, 2023
Sign turned out great and really fast shipping!!