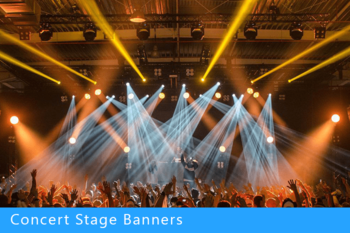 Concert Stage Banners, Band Backdrops & Stage Scrims
Wow your audience & own the stage like a rock star!
Bands, stage acts, and theater productions have special needs for stage banners. Printastic can help you with a wide variety of custom stage banner options, including
Single-sided or double-sided stage banners
Band backdrops
Decorative stage scrims
Performance banners
Sound-penetrable stage banners for use with amps & speakers
Stage banners by Printastic offer more options for material and finishing than any of our competitors. You can design specific stage backdrop sizes with custom graphics and messaging uploaded to our easy-to-use online design tool. Check how your banner looks before ordering and receive an instant price quote.
You can also choose from a huge variety of pocket insert and grommet choices for installation. No matter what your style, theme, or event, we can help you create the perfect backdrop banner to make your performance special!
Single & Double-Sided Stage Banners
Printastic default single-sided stage banners are perfect as stage backdrops or scrims viewable to front facing fans. Lightweight 13oz Matte Vinyl material is ideal for easy transport, manageable installation, and convenient storage, even when formatted for large stage backdrop displays. Banners include all the installation finish work you need for a secure presentation, to ensure optimal placement without draping or sagging.
For stage backdrops that need to be viewed from both sides, our 18oz Blackout Layered Vinyl material provides appropriate thickness so image quality and details are clearly visible from both views. It's a qualitative improvement you can't get with standard material.
Mesh Stage Banners That Won't Obstruct Your Sound
Stage productions need just the right banners, so the audience can enjoy both the look and sound of the show. Mesh Vinyl stage banners from Printastic are perfect to use on stage for concerts, performances, plays, stand-up shows, events, and as video production backdrops. These banners are printed on a Mesh Vinyl material that is perforated throughout the entire banner—this allows sound to easily pass through, without muffling or distortion.
These banners are ideal to install in front of your amps and speakers, where they allow sound through while also providing a great visual for the audience. They're perfect for promoting your band name and insignia, production visuals, event branding, advertising or messaging, and much more.
Use our Mesh Vinyl stage banners against your stage or as a free hanging backdrop scrim. If displayed against a wall or stage backdrop, the banner will display your message clearly and vividly. In a free hanging setup, the perforated material maintains the clarity of your artwork for the audience to enjoy, while allowing sound to easily pass through.
What People Are Saying About Printastic Stage Banners
Lots of options for use – "They're so versatile. Our school has used them for a variety of performances, including concert, theater, spelling bee, and talent show events."
Specialized for stages – "The mesh stage banners are perfect—they look great without affecting audio quality."
Convenient materials – "So simple to use, the lightweight material makes transport, setup, and take-down very easy with a small crew."
Double-sided options – "Our double-sided stage banner looks good from both directions, there's no bleed-through or fuzziness in the images."
Call us for extra-large projects – "Our performance space is very large and Printastic was able to work with us to create an extra large scrim to fit the space."
Upgrade Your Stage Presence with Printastic
We've helped all types of productions improve their visual look and sound performance. You can make it happen just as easily:
Use our online tool to design your stage banner, backdrop or scrim;
Choose a templates & upload your image or text;
Use the preview image to confirm how it looks;
Place your order & we're ready to work!
Contact our support team with any questions or special orders. It's your time to shine on stage, let Printastic make you look like a star!
---