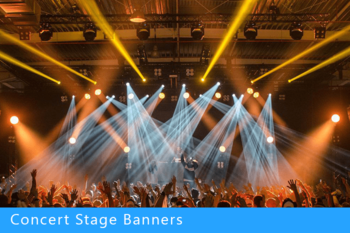 Concert Stage Banners
Offering a wide variety of custom stage banner options including single and double sided stage backdrop banners and sound penetrable stage banners perfect for banner displays around amps and speakers.
Stage banners by Printastic offer more material and finishing options than any of our competitors. With specific stage backdrop sizes ready to be selected from our ordering platform to customizing these banners with the necessary finishing options including a huge array of pocket insert and grommet choices for installing, we are confident you will be able to design and customize the stage backdrop banners you will need to represent your brand or concert in style.
Single and Double Sided Stage Banners
Our default single sided stage banners are perfect for stage backdrops that present only to front facing fans. They are made of 13 ounce lightweight matte vinyl material and offer an easily manageable installation even when formatted for large stage backdrop displays. They include all the installation finish work you need for a secure presentation to ensure your presentation will not drape or sag.
For stage backdrops that may have fans and spectators on both sides of the stage, our 18 ounce blockout layered vinyl will provide and excellent two sided banner that will present your message clearly and concisely on both sides of the banner without one side of the banner visually impairing the other side's quality or resolution.
Stage Banners That Will Not Obstruct Sound
We came up with a special banner that's perfect to use on stages for concerts, events, stand up shows, and as video production backdrops. These banners are printed on a mesh vinyl material that is perforated with tiny little holes throughout the entire banner. This allows the sound to easily pass through, without obstructing its flow or creating echoes and sound barriers, making it perfect for performances and video shoots.
These banners are perfect for installing in front of amps and speakers used on stage due to the fact that the porous mesh material will not impede sound quality, while providing custom printing to promote your band name and insignia.
There are two main ways you'll use our mesh stage banners: against your stage or as a free flowing backdrop. If used against a wall or stage backdrop, the banner is highly opaque and will display your message clearly and vividly. If you need to install this banner in a free hanging environment, the perforated quality of the mesh banner material provides a somewhat see-through visual quality of the banner that will also allow sound to easily pass through, but will maintain the clarity of your artwork for the audience to enjoy.
Stage Banner Frequently Asked Questions
Can I use a variety of stage banner options in my concert presentation?
Yes. Use our single and double sided stage banners in areas that won't obstruct sound and where the most vivid resolution for communicating your message is needed, and use our mesh stage banners in areas that you intend the sound to pass through such as in front of speakers or amps next to your stage presence.
Are stage banners easy to install?
We provide all the installation finishing options you will need to ensure your banners present your artwork professionally while remaining easy to set up and take down.
Can I see my artwork bleed through on double sided printed stage banners?
No. We only provide double sided printing on our 18 ounce blockout layered vinyl to ensure the printing on each side will not bleed through to the other side.
Can I Get Custom Sized Stage Banners If Needed?
We do accept special requests if your stage banners require special sizing or finishing. Please contact us for a custom quote if this applies.
---