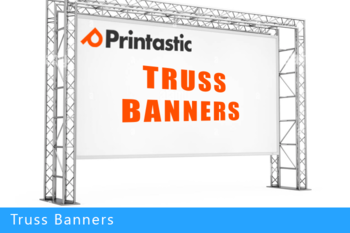 Exhibit Truss Banners
Install custom truss banners on entryway trusses and lighting trusses to welcome guests to any event.
Erecting trusses at outdoor events, concerts, using trussing for setting up band stage backdrops and to use truss overhangs for racing events are just a few instances where truss banners can be found. In fact, without the colorful banners being used on these trusses to promote the event highlighting brands of vendors and sponsors, there would be no need to build these structures.
Using truss systems are also quite popular for indoor events. We see complex truss systems in trade shows all over the country to accentuate a  company's trade show booth, or used for lighting systems that help add to the presentation. In all cases, truss banners are one of the major components to add color and help brand vendors, event sponsors and the promoters alike.
How Are Truss Banners Used
Truss banners at business events and trade shows are commonly used as backdrops installed along these systems to help hide the unsightly trusses while providing brand messaging and company slogans to help attendees better remember a business presentation, kiosk or trade-show booth. Bands use trussing to build their stage presence including structures for lighting and to contain sound equipment. This is a common practice at concerts and festivals. In order to help hide the structures band promoters will use install custom banners along stage trusses to help brand music genres with the band name to onlooking fans in order to grow followers and promote music sales.
Truss Banner Specifications
We have researched and pre-configured many of the common banner sizes used on trusses and included these sizes for easy selection while ordering. If you need custom sizing that is not found in our selection, please contact us with your specific requirements and needed sizing and we will provide you with a competitive  custom quote we know you will be happy with.
Finishing options for truss banners include any available pocket configurations and grommets provided at no additional charge. Installing truss banners can sometimes require specialty installation fasteners, which we can assist you with if needed. Please contact us for any custom fasteners required.
Truss Banner Frequently Asked Questions
Can I get a custom quote on multiple banners needed for my entire truss system?
Yes, please contact us with the quantities and individual sizes you will need, and we will provide you with a custom quote for your entire presentation.
Am I able to provide different artwork for each of my truss displays?
Yes. You are able to upload individual artwork to custom personalize each banner with its own unique design and message.
Can My Banners Include Full Color Process Printing?
Yes. We digital print our banners, and you can include high definition full color process graphics on your banners.
Can I Get Custom Sized and Finished Banners If Needed?
We do accept special requests if your banners require special sizing or finishing. Please contact us for a custom quote if this applies.
---