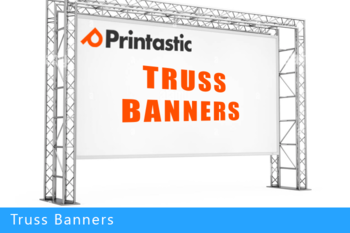 Professional & Affordable Truss Banners
Order custom truss banners for entryway trusses & lighting trusses, to welcome guests to any event.
Support trusses at outdoor events and concerts are ideal to use as mounts for promotional banners. Some common trussing situations include:
Band stages
Performance spaces
Racing event start-finish overhangs
Church or faith organization spaces
Trade show areas
Theme park or entertainment venue entrances-exits
How Are Truss Banners Used
Truss systems are necessary both indoors and outdoors, which means that truss banners can be a very versatile way to reach audiences, while concealing unsightly trussing elements. Truss banners are used to add color, promote brands and vendors, share sponsorship information, and much more.
Truss banners can be used as backdrops installed along these systems to add visual appeal to professional spaces, by concealing trusses while promoting brand messaging and company slogans. Bands and performers at large venues use truss banners to upgrade their stage presence and create an entertaining environment.
Custom truss banners from Printastic allow you to gain maximum value from truss systems.
Truss Banner Specifications
At Printastic, we understand the most common sizes and formats for both truss systems and professional banners. Those sizes can be selected using our online design tool. If you need custom sizing not found in our selection, please contact us with your specific requirements and we will provide you with a competitive custom quote—we're experts at innovating truss banner solutions!
Finishing options for truss banners include selecting pocket configurations and grommets, both provided at no additional charge. Installing truss banners sometimes requires specialty fasteners: contact us to assist you with these, if needed.
Truss Banner Help Center
We have printed and delivered thousands of truss banners all around the United States. Here are some common requests:
"I need a custom quote for multiple banners for my entire truss system."
We can help you! Please contact us with the quantities and individual sizes you need, and we will provide you with a custom quote for your entire presentation.
"I need different artwork for each of my truss displays."
No problem! Our design tool allows you to upload individual artwork to personalize multiple banners with their own unique designs and messages.
"I want fancy banners with Full Color Process Printing."
That's one of our specialties! We're capable of printing extremely high quality banners using state-of-the-art digital printing tools. You can include high definition, full color process graphics on your banners—we'll make sure they come out looking great!
"I need custom sizes and finishing options not available using your online design tool."
Let's talk. We review all special requests: if your banners require special sizing or finishing, please contact us for solutions and a custom quote.
Put Your Truss Systems to Work with Banners from Printastic
We've been thrilling customers for years with our simple three-step process: design, print, deliver. Ready to get started? Go to our online design tool to begin, or contact our support team with any questions or special orders. We know you have options for a custom sign and banner partner, thanks for choosing Printastic!
---