Free, Simple And Effective Banner Hanging.
When you purchase a vinyl banner from Printastic, you have the option at checkout of having grommets pre-installed along the edges of the material for easy hanging. Grommets are punched through the banner material using a precision grommet machine to create an installation hole. Each grommet holds the vinyl securely and helps prevent the holes from spreading or tearing the banner edges off.
The #2 nickel grommets we use have proven to be extremely durable. They measure 3/4" on the outside with a 1/2" diameter hole. The smooth inside edges of our metal grommets ensure that in most cases, the cord or rope passing through the hole will not chaff as much as other usages and therefore has lower risk of cutting whatever is used to hang the sign.
We install each grommet approximately 1 inch off from the edge (to the center of the grommet). This makes for a smooth and uniform installation and allows for hassle-free installs on same size backing substrates such as plywood or corrugated plastic The 1" offset spacing gives the grommets the right amount of material to grab on to, making the bond stronger and less likely to be torn out under stress. We highly recommend selecting the 'Hemmed Edges' option if you intend to install your banners outdoors. Hemmed edges reinforce the entire banner and give each grommet a double thick layer of vinyl to bite into, creating the strongest grommet hole possible in every banner for every installation.
We would be happy to customize a grommet pattern to suit your specific needs and will gladly install up to 8 grommets per banner at no additional charge. If you require a higher level of grommet customization, please contact us for to discuss how we can print your project to life.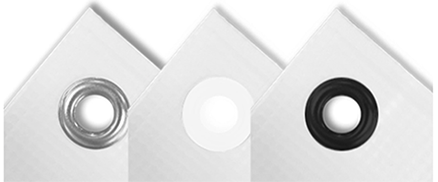 Grommet Placement
As standard, we recommend placement of 4 grommets on a 2x4' banner (one in each corner), 6 grommets on a 3x6' banner (one in each corner and middle), and 8 grommets on the 4x8' size (one in each corner and 2 in the middle at 32" intervals. These grommet installation patterns have proven to be ideal for most installations and will not detract from the appearance of your printed image.
However, you can specify any amount and placement location you'd like for your banner during the checkout process: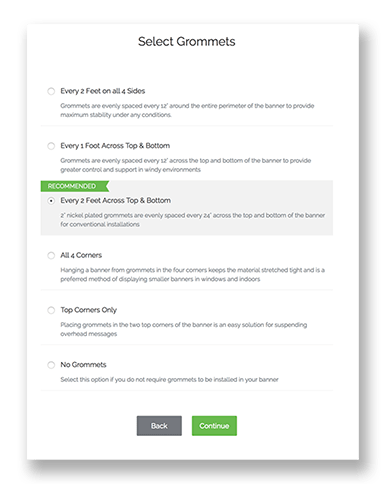 Grommet Colors
Printastic understands that colors are a key component of any successful branding effort and have introduced a range of grommet color choices to help your banners stand out! Colored grommets can be used in two very effective ways - to seamlessly blend into the background or to intentionally stand out and call attention to themselves. Either way they can work with your design concepts to make them the best they can be!
Each color has been carefully crafted to offer complement your banner design and offer the most versatility possible. Colored grommets are a Printastic exclusive and each grommet product is manufactured in-house to our specification, using our proprietary proccess. Available colors include:
Standard Grommet Colors

Anodized Black
Gun metal finish

Nickel Silver
Metallic silver finish

Enamel White
Gloss enamel finish
Printastic Exclusive Grommet Colors

Fire Red
Gloss enamel finish

Sky Blue
Gloss enamel finish

Cardinal Red
Gloss enamel finish

Royal Blue
Gloss enamel finish

Mint Green
Gloss enamel finish

Forest Green
Gloss enamel finish

Brown
Gloss enamel finish

Pink
Gloss enamel finish

Lilac
Gloss enamel finish

Purple
Gloss enamel finish

Yellow
Gloss enamel finish

Orange
Gloss enamel finish
Grommet Installation Methods
There are two main methods of grommet installation - manual and automatic. At Printastic, we utilize both methods for finishing vinyl banners.
Manual Grommet Installation
The manual grommet hand-press is the most widely used type of grommet tool used around the world today. The manual method employs a two pieces grommet (self-piercing top piece & washer bottom piece) that are placed into the press by the user. Once both grommet pieces are in place, the operator presses the handle down to punch the grommet through the vinyl and lock it into place.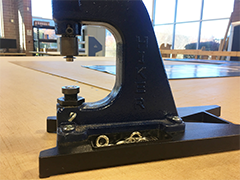 Manual Grommet Press with top and bottom grommet pieces in press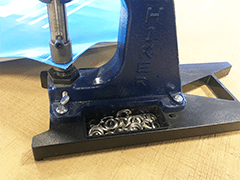 Grommet is punched through vinyl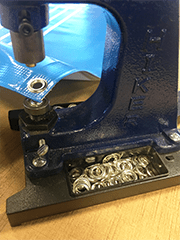 Grommet is installed and ready for use
Automatic Grommet Installation
An automatic grommet machine streamlines productivity and increases the production capacity of any banner production environment. The banner material is inserted under a safety guard and aligned to a red laser light which shows where the grommet will be punched. A foot pedal is used to trigger each grommet installation automatically on demand.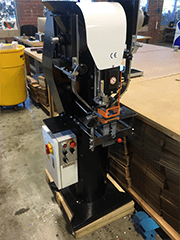 Automatic Grommet Machine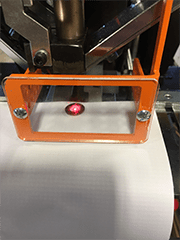 Grommets are automatically punched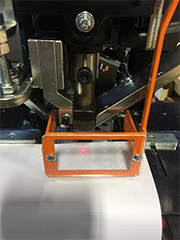 Red laser light marks the spot
At-Home Grommet Installation
In the event that a grommet rips out of a banner or if additional grommets need to be added to an existing banner, The Home Depot carries a DIY home grommet kit for hobbyists. The kit requires you to use a hammer and wood block instead of a proper grommet press to install the grommets, but it can work in an emergency situation.

Home Depot Grommet Kit