Jet Ski Rental Banners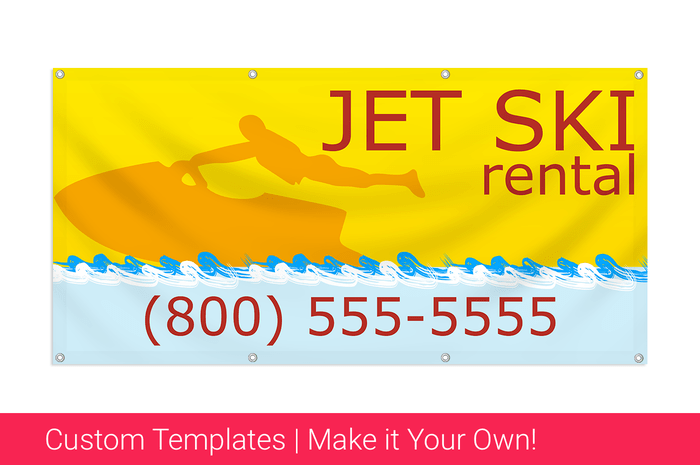 Jet Ski Rental Banners
Showcase what's special
Jet Ski banners are a great way to announce your products and entice potential renters. Whenever placing a product on the rental market, you want to showcase the product's features and attract attention in every possible way. A large, full-color rental banner is guaranteed to catch attention. Most potential renters are automatically drawn to a colorful sign and a well placed one can guarantee an increase in business.
Make a statement with color. Adding bright and vivid colors to your rental banners increase your chances of gaining attention. Blue is a very popular color for boat related banners because many people are equate water directly to it; however sometimes, you can go overboard. Just remember: you want to make sure your sign has great contrast and readable text no matter what colors you choose.
You, the owner, know what's really great about your jet ski rental service, so why not tell everyone? Set yourself apart from the other properties for sale by telling potential renters that your property has desirable features like longer rental terms, free gas or other rental incentives. These qualities on an eye-catching rental banner are sure to set you apart. Printastic.com offers you many resources in creating your own banner. Our free custom templates and easy to use design tools allow you to create a banner that's perfect for your jet ski rental business - Great marketing and quality banners are the key to increasing your customer count.