Kayak Rental Banners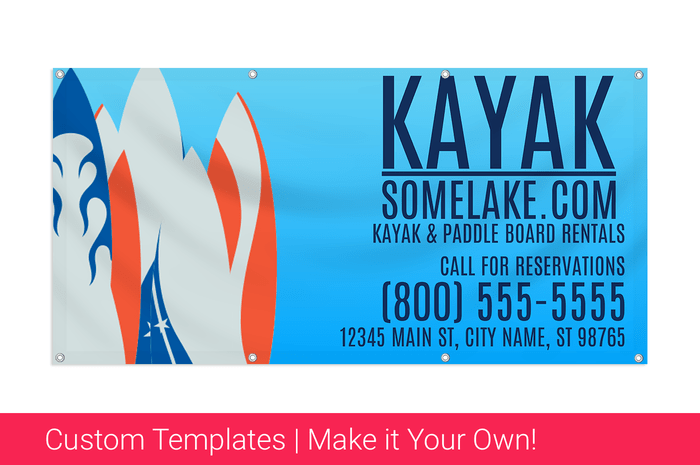 Kayak Rental Banners
Make a strong statement
During three seasons of the year, kayaking is available at lakes all across the United States. Keep your kayak rental business booming by utilizing large vinyl banners to announce your products and entice potential renters. When competing in the crowded watersports rental market, you want to showcase the product's most compelling features and attract attention in every possible way. A large, full-color rental banner is guaranteed to catch attention. Most potential renters are automatically drawn to a colorful sign and a well placed one can guarantee an increase in business.
Make a statement with color. Adding bright and vivid colors to your rental banners increase your chances of gaining attention. Blue is a very popular color for boat related banners because many people are equate water directly to it; however sometimes, you can go overboard. Just remember: you want to make sure your sign has great contrast and readable text no matter what colors you choose.
A kayak rental banner should compel potential leaseholders to pay attention to your business instead of looking at others. To be as effective as possible, a kayak rental banner needs to be informative and persuasive to the viewer, making them feel the need to further inquire about the opportunity. Play up your assets by including positive information about your products your one-of-a-kind custom kayak rental banners. Design your kayak rental banner from hundreds of templates, plenty of sizes, and full color layouts today!