RV Rental Banners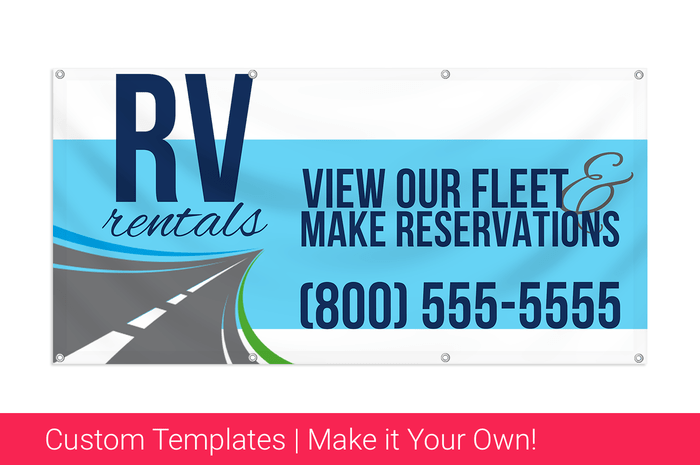 RV Rental Banners
Big Banners for big vehicles
There's no better way to take a traveling vacation than by renting a recreational vehicle. Many people rent RVs simply for a change of pace by taking an RV trip to a special event or destination. You can rent near home and journey to your final destination, or fly and pick up your RV at the other end. More than 460 national chain outlets and local RV dealerships rent RVs, including state-of-the-art, late-model-year units. A growing number of campgrounds offer on-site RV rentals as well.
Make sure to use your custom banner to advertise any special housekeeping packages (dishes, pots, pans, bed linens, etc.), or or other programs. Even if your customers are new to RV life, use you banner to let them know that driving or towing an RV for the first time can be easy. Features like automatic transmissions, power steering, large external mirrors and rearview cameras make it easy for experienced drivers to adjust to the difference in size, height and weight.
Designing a custom banner is easy as can be with Printastic's interactive Online Design Tools. If you've found the time to complete your design on your own, great! You can upload your file in PSD, PNG, JPEG, or PDF format. Creating a design for the first time? Start by selecting one of our awesome RV rental templates and personalize it with your own images, graphics, logos, and text. Complete your banner by choosing between several material and hanging options, and Printastic will print your banner in photo quality and ship it right away.