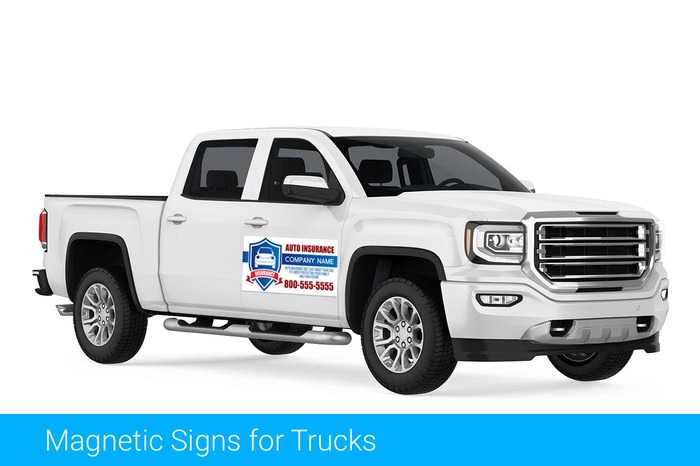 Truck Magnets for Working Vehicles & Vehicle Fleets
Customize your working trucks with vehicle magnets that generate consistent advertising & promotional value.
There's a way to get even more value from your trucks and work vehicles: with truck magnets, you can use them to advertise and promote your business. Just one truck outfitted with magnetic door signs can reach thousands of commuters in your local market every day.
Our FREE online design tool is key to making truck magnets both affordable and effective. We host a large library of free templates and designs for you to choose from and add your image, logo, and text. Whether you're upgrading a single truck or a whole fleet with custom graphics, we can help you create just the right look for the job.
High quality graphics that are attractive & professional
Very high read rate, reach a wide audience of customers
Simple to install, easy to remove, rotate between vehicles & reuse
Fraction of the cost of vehicle wraps or traditional advertising
Variety of sizes in circle, oval or custom shapes
Sized for All Types of Trucks
From compact pickups to sporty models, all the way to standard size and super-duty models, we have options for magnetic truck signs that fit. Whatever the door or tailgate size, you can create a sign that perfectly promotes your business.
Signs are typically ordered in pairs, for display on both sides of your truck. However, work trucks have an added benefit of the rear tailgate, which can perform as a mobile billboard. That means drivers to your right, left, and rear have a front row seat to read your message—there's no better way to generate promotional impact at the same scale and cost effectiveness!
Superior Quality Sets Us Apart
We print and deliver custom magnetic truck signs all over the United States, here's why we're preferred:
Quality material
Precision die-cut, heavy-duty 30mil magnet sheets are tough and generate a hold of 85lbs/sqft. That prevents fly-off at speeds up to 80mph.
Safety finishing
Each finished magnet features ½" rounded corners all the way around to protect your truck's paint.
Attractive coating
The UV coating is not just to protect against sun exposure and extend service life. It's also completely transparent and shiny, to match your vehicle's clear coat.
Simple to install
If a refrigerator magnet will stick to your truck door or tailgate, then our signs will too! Installation takes only seconds and removal is just as fast and easy.
Bulk pricing
Fleet orders may qualify for a quantity-based discount. We offer direct-to-business wholesale pricing for 25 or more magnets in a single order—buy more and save more!
Truck Magnets Are for Businesses Like Yours
Here are some of the reasons our customers are using truck magnets for their businesses and organizations:
Branding
A business logo and imagery brings the company front and center in the eyes of customers. It creates awareness and makes connecting with customers easier.
Professionalism & trust
For businesses that work at customers' homes, a professional appearing vehicle is essential when they pull into the driveway. It gives customers a heads-up when they arrive and demonstrates that a company is reputable and trustworthy.
Hiring
Managers at many contract companies in major metropolitan areas use truck magnets to advertise open positions. The temporary nature of truck magnets makes them ideal for messages like "help wanted," "seasonal workers needed," "looking for drivers," etc.
Advertising & promotions
Truck magnets are a fraction of the cost of TV ads, roadside billboards, or vehicle wraps. The low cost pays off huge in reaching a vast daily audience.
You Design Your Magnet, We'll Print & Deliver It!
Ready to begin upgrading your work truck? Use our online design tool to get started, it's FREE and there's no obligation, or you can contact our support team with any questions or special orders.
Thanks for choosing the team that's preferred by businesses for magnet, banner, and sign printing!
Cut Shapes Offered
Sizing Classifications
High Lights
Temporary on-demand advertising
1 year product lifespan
Never permanently attached to car
Easily remove when not needed
Easily change and share messages
Fast Features
Due to the reusable, "easy on, easy off" nature of magnetic signs, they make a great solution for most mobile applications. Durable materials, permanent inks and a protective finish give our the magnets the quality you need to look great even with extended use.
More Information
---