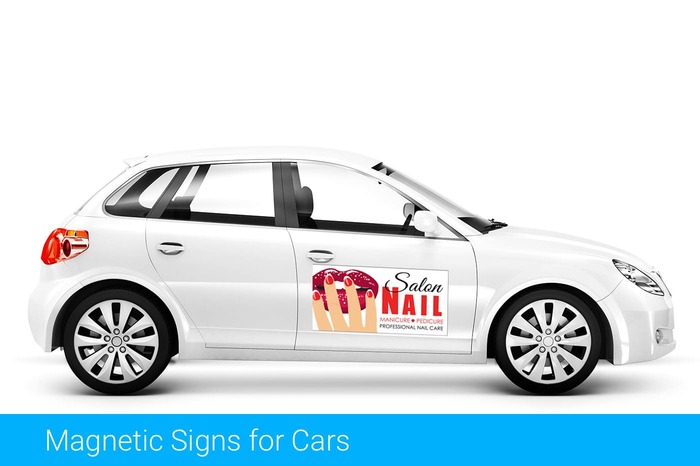 Car Magnets for Any Vehicle
Use your vehicle fleet to advertise your business or promote your organization.
Car magnets are the perfect way to establish your business and build brand visibility, using the vehicles you already have. These signs adhere to any ferrous metal car door (that's almost all car doors) and are specifically sized to suit most vehicles.
Wherever your car goes, you can advertise: commuting, at job sites, or just driving around town. Every driver or pedestrian within sight becomes a potential customer when they read your car magnet's advertising message.
Advantages of Car Magnets
Here's why our customers invest in car magnets for advertising and promotions:
Easy to use
The most important advantage of car magnets is that they're easy to install and easy to remove: a single vehicle can be a company car during work and a personal car at other times. You can also swap magnets between vehicles and deploy them however you need.
Affordable
Car magnets are a fraction of the cost of a permanent vehicle wrap and they do the job just as well. If you need the best bang for your advertising buck, car magnets are a solution that pays off.
Superbly effective
A well-designed car magnet can share all the information needed to make an impression with customers. Company name, logo, phone number, website, and a short message—these magnets provide exceptional promotional value for:
Realtors
Landscapers
Handymen
Roofers
Construction & tradesmen
Installers
Pest control
And many more...
Professional looks
For businesses that show up at customers' homes, removable car magnets provide home owners peace of mind by letting them see that a reputable company has arrived. Many homeowners don't like unmarked, unknown, or unexpected cars in their driveway; a custom designed magnet is a courteous and professional way to announce your visit.
Installing Your Car Magnet
Here's what you need to know to install your removable car magnet on any vehicle.
Check your vehicle
Our customizable car magnets will only stick to car parts that are made from ferrous metals, like steel—most cars are made with steel door panels. Our magnets are not suitable for installation on the following surfaces:
Plastic
Carbon fiber
Fiber glass
Aluminum
Copper
If you're not certain whether your car door panel is suitable, you can test with a refrigerator magnet: if the magnet sticks, then our car magnet will stick also.
Measure
Before you order, take a few moments to measure the surface where you intend to install your car magnet. Look for bevels, panel molding, or any potential obstructions that would prevent a suitable fit.
Installation
For installation, first identify the desired placement area. This should be on a flat or gently curved rectangular area, free of ridges, moldings, and name or brand badges. This same area should be available on both the driver and passenger sides of the car. Make sure both the vehicle surface and the magnetic side of the car magnet are completely clean and dry prior to application.
Buy Your Car Magnets Today
Car magnets are an ideal solution for fast, easy, and effective advertising. Ready to get yours? Create your design using our online design tool, or contact our support team with any questions or special orders. We're here to help your vehicle fleet get noticed!
Cut Shapes Offered
Sizing Classifications
High Lights
Temporary on-demand advertising
1 year product lifespan
Never permanently attached to car
Easily remove when not needed
Easily change and share messages
Fast Features
Due to the reusable, "easy on, easy off" nature of magnetic signs, they make a great solution for most mobile applications. Durable materials, permanent inks and a protective finish give our the magnets the quality you need to look great even with extended use.
More Information
---