Custom Work Van Magnets - A Guide To Practical Use
Smart Business Marketing
Removable custom magnets provide the flexibility to turn your work van into an effective advertising tool when you want it - and not when you don't.
Running your own business can be tough, especially if you are always on the go! Picking up and dropping off materials, meeting clients for proposals and estimates, visiting work sites and continually driving your van between jobs takes a tremendous amount of effort - that you can maximize with custom magnetic signs.
One common theme in every contractor's daily schedule is driving. On the road, you see more people in cars during a 15 minute drive than real people face-to-face in a month. That also means that 100's of people have seen your car on the road too. Why not present those other drivers with an advertisement to interest them and possibly gain some new customers? Wouldn't it be nice to reach out to new prospects and tell them about the products and services you offer with no extra effort? Imagine the increase to your bottom line if you are able to up few new customers each week by just driving around!
Transform Your Work Van Into A Large Advertisement
With van magnets from Printastic it only takes seconds to transform a van from a plain boxy vehicle into one of the most effective and affordable methods of advertising that you can invest in. Work vans of all types can generate results with available sizes up to 24"x48", which is more message space than the signs in front of many businesses and offices. Another benefit is the added advantage of being seen anywhere your van is parked.
Van magnets are an excellent alternative to having permanent graphics applied to a vehicle. They can be easily removed when washing the vehicle, which means there is no risk of damaging your graphics with brushes, abrasives, or power washers. If you want to change or update the information on your van, simply remove the magnet and put on a new one. When it's time to replace the van, you won't lose your marketing advantage, simply move your magnets to the new van.
Most work vans can easily accept extra large custom magnets due to their additional surface space. The sides and back of work vans - sometimes called cargo vans - typically do not have windows, which creates more opportunity for applying graphics in creative and effective locations.
The most popular sizes for use on the sides and back of vans are:
12 x 36 - $45
12 x 48 - $55
18 x 36 - $55
18 x 48 - $65
24 x 24 - $55
24 x 36 - $65
24 x 48 - $75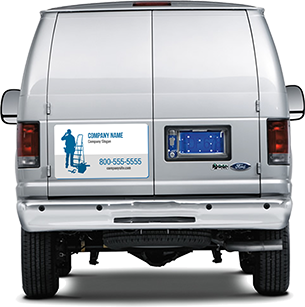 Easy From Start To Finish
Printastic has created a wide range of editable templates that can be used to create custom advertising messages on magnetic signs for all types of contractor trades and skills. Our magnetic sign templates are available for many many disciplines that apply to home repair, construction, upkeep and remodeling. If you run a business that provides services for the home or office, one of our pre-made templates is sure to be a great starting point for creating magnetic signs that are perfect for your specific business. It's easy - the whole process is only 3 easy steps:
Choose the category below that best describes your business
Browse through the selection of designs presented to you in that category
Choose the template that is right for you and add your logo and information to make it complete
Once your design is complete, it is time to begin production on your magnet. Our magnetic sign material is comprised of the most durable, high strength magnetic sheeting that is available on the market today. In addition, they feature 1/2" rounded corners on all sides to prevent damage to the magnet from repeated installations and removals over long-term use. Printastic's magnetic signs are rated for speeds up to 85 mph for all van magnet sizes. Satisfaction with your van magnets is guaranteed and all artwork is checked for resolution and proper set-up before production begins.
5 Design Tips For Work Van Magnet Designs
Establish your business
Your van magnets should clearly convey what services your business offers. If your business' name does not indicate what services you offer, list them succinctly on your vehicle magnets. When including a logo or clip art on your sign, make sure it relates to your business in some way.
Choose a selling point
Feature a strong marketing message on your custom van magnets that emphasizes what makes your business unique. Consider who your target market is and develop a marketing strategy to reach them that establishes your business as unique in your field.
Include all the important information
Display your phone number prominently on your van magnet in large, easy to read numbers so people who see your sign while driving can quickly put your number into their phone. If you have a website for your business, include it on your magnetic van sign as well.
Make your van magnet easy to read
Using large letters and concise phrases on your magnet signs will make it easier for people to read and take information from it while driving. Make sure your custom van magnet's lettering is easily distinguishable from the background, and choose an easy to read font that matches your business style.
Choose the right color combination
Using light colored letters on a dark background will increase your van magnet sign's readability. Yellow on black and white on navy, black or forest green are some recommended color combinations. Putting important information, like your phone number, in a different color from the rest will increase reader retention.
Perfect For All Types Of Seasonal Contractors
The vast majority of work vans are used to get the job done, but most of them aren't used to get the job in the first place. Magnetic signs from Printastic can change that. Work vans can often be used for different functions during different times of the year. In fact, it is rare to find a work van that is dedicated to only one trade or discipline.
Most contractors perform different functions and supply a range of markets that are seasonal operations. The market for seasonal contract work of all kinds is full of challenges, but most work vans fall into one of these three categories for daily work:
Residential
Commercial / Industrial
Local, State or Federal Government
If your work van is used primarily for residential services, but you get a new commercial account, you may wish to present a more commercial appearance for your business. In much the same way, you may not want to present a commercial or governmental appearance when you call on a residential customer. With custom van magnets, you can change the look and feel of your message to suit the type of customer you plan on visiting that day.
Some examples of graphical elements (icons) that can appropriately be used for various market segments:
Residential Icons
House
Family
Kids
Garden Tools
Trees
Pets
Commercial / Industrial Icons
Skyscraper
Hard Hat
Construction Equipment
Building
Lock
Handicapped Logo
Government Icons
Badge
Flag
Monument
Hospital Sign
Airplane
Get A Security Boost
Gain peace of mind with added safety and security by clearly marking your vehicle for business, which sets the right expectations as you pull into a customer's private driveway. Have your name and phone number on your magnetic signs to let your customers know who you are, and why you are there. In addition, it's wise to include your company logo to increase name recognition and to set a standard of corporate professionalism that customers appreciate.
Our fully customizable templates have all been professionally designed to deliver your work van's message with large fonts, bold colors and artwork that is easy to see from a distance on your vehicle. Our online design interface can easily be used by people of all skill levels to create eye-catching banners that are effectively deliver your intended message and add to the overall sense of security and professionalism. We have a vast clip art library of your use, which includes many different security and safety related shapes and images.
Proper Care & Feeding Of Your Van Magnets
The magnet will naturally stick to most van surfaces and stay firmly in place until removed - as long as it was applied properly to a clean, dry, flat, ferrous metal (magnetic) surface. It is extremely important to apply magnets only to factory painted vans with no custom paint work.
Touch one edge of the magnetic sign to the vehicle surface in the desired location and then let the rest of the sign slowly contact the surface until the entire sign is held magnetically in place. If your van magnet is not in the desired position, remove and repeat this process. (Do not try to straighten the sign by pulling on it when it is attached to the vehicle as this may stretch the material.) Do not rotate the sign while it is attached to the vehicle or you may scratch the van's paint or damage the clear coat.
Remove your magnets weekly for a few hours to clean them up and let the surface of the van "breathe". Magnets should be applied only to a flat ferrous metal surfaces, with no plastic parts, moldings, and rivets underneath. The nature of magnets makes them unusable on uneven or plastic parts, aluminum trailers and tailgates, or any other van surface that is not made of a flat ferrous metal.
Cut Shapes Offered
Sizing Classifications
High Lights
Temporary on-demand advertising
1 year product lifespan
Never permanently attached to car
Easily remove when not needed
Easily change and share messages
Fast Features
Due to the reusable, "easy on, easy off" nature of magnetic signs, they make a great solution for most mobile applications. Durable materials, permanent inks and a protective finish give our the magnets the quality you need to look great even with extended use.
More Information
---
product reviews
5
3 product reviews
see all reviews

Steve
on November 3, 2022
The extra large vehicle magnets are exactly what I had in mind.

Rick
on November 3, 2022
WONDERFUL JOB,VERY FAST SHIPPING

Brad Blumhardt
on October 7, 2022
Got magnets for my work van. They look great!!